FINAL DAY - Online Embryo Sale
Today it's the final day of the Eurogenes Online Embryo Sale! Make sure you bid last on the exciting packages selling. The auction ends this evening at 9:00 P.M. (Dutch Time). Some interesting embryos are selling for example: Kenobi x a Flagship dtr of Delta Blake with +2702 gTPI, Addison *RC x a VG-2yr. grand dtr of Roseanna EX-93, FEMALE Diamondback *RC x the Maryrose's, FEMALE JEDI x DG Charley's full sister: DG Caylee VG-86-NL 2yr. and more!



ONLINE EMBRYO SALE
Closingdate: TONIGHT 9:00 P.M. (Dutch Time)
Click here for the online catalogue


A few examples of the embryos selling: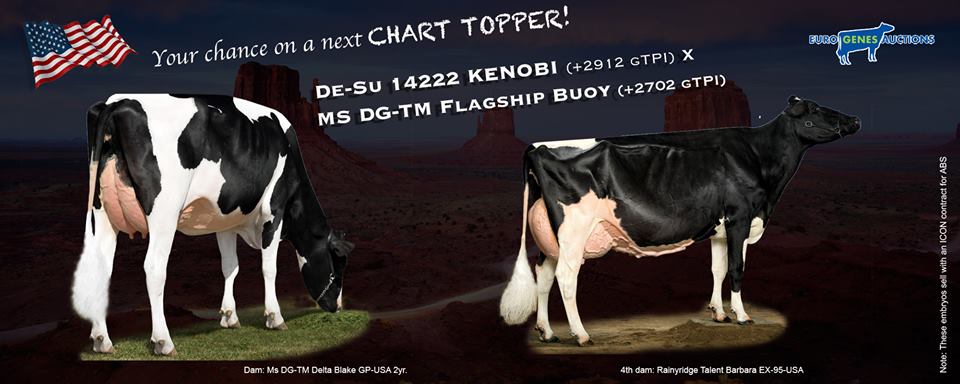 De-Su 14222 KENOBI x MS DG-TM Flagship Buoy (~CLICK HERE~)
Huge opportunity to creat your own CHART TOPPER!
Donor Buoy has >2700 gTPI & +863 Net Merit!
KENOBI stand for >2900 gTPI, almost 1000 NM$ & 2.21 UDC!
The best of the Barbara's combined in one package!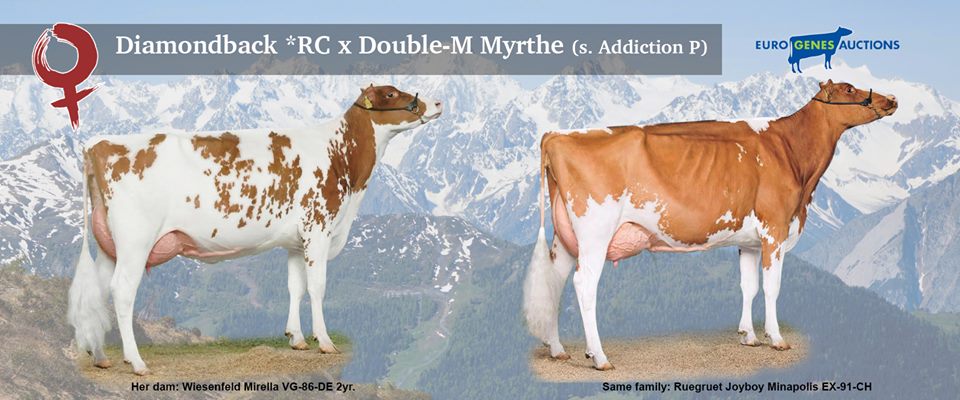 FEMALE Mr D Apple DIAMONDBACK *RC x Double-M Myrthe-Red (~CLICK HERE~)
Myrthe is a grand dtr of the great brood cow: Birkenhof Rubens Mabel-Red EX-93-DE
Same family as Ruegruet Joyboy Minneapolis EX-91-CH: Int. Champion R&W Swiss Expo & Expo Bulle
Same family as Mox Kite Maryrose EX-90-CH!
Huge potential in this R&W Show family!!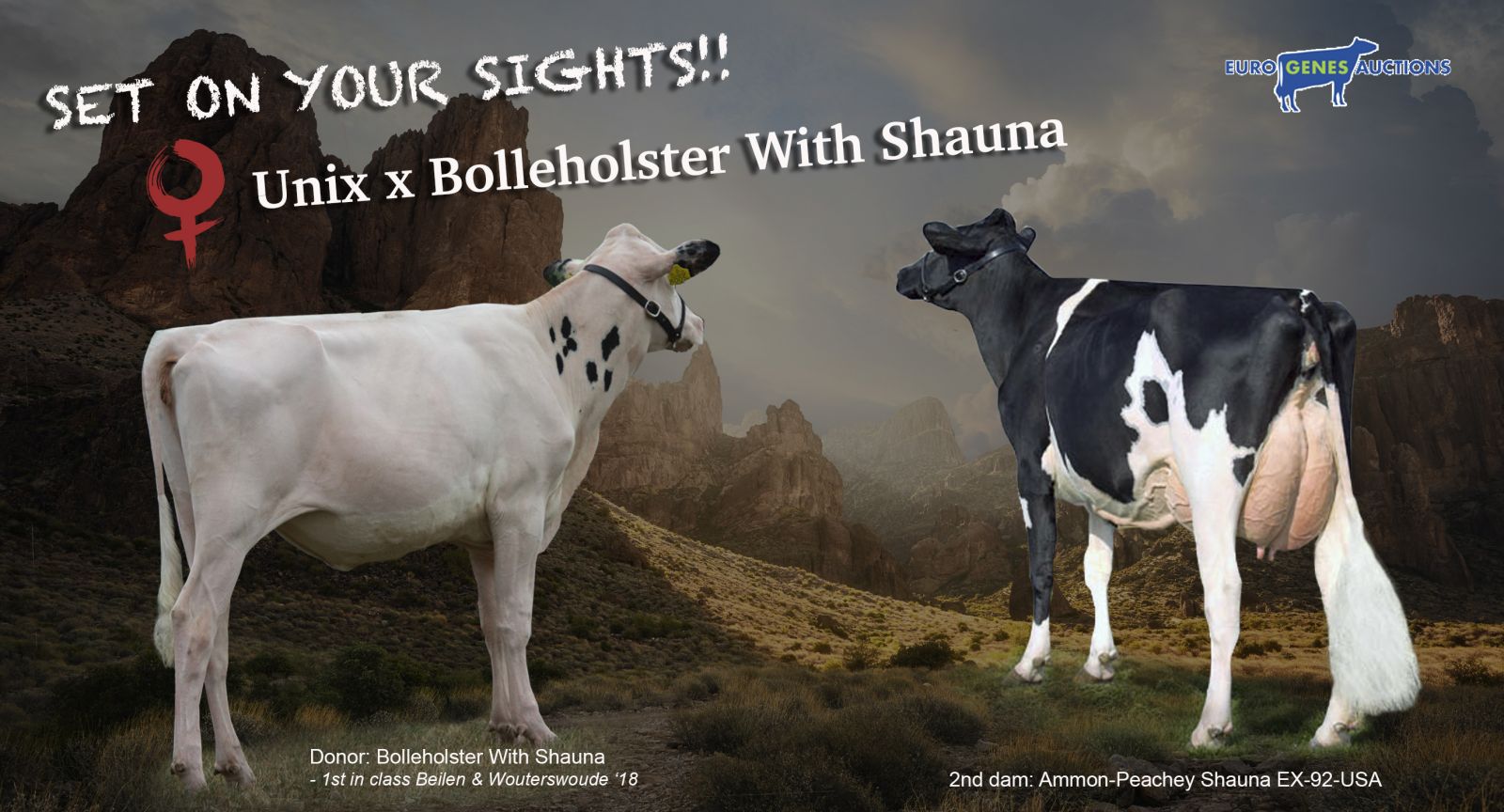 FEMALE Croteau Lesperron UNIX x Bolleholster With Shaune (~CLICK HERE~)
FEMALE Unix embryos from the classwinner Beilen '18 & Wouterswoude '18: Bolleholster With Shauna
This BEEMER dtr is a grand daughter of the one and only: Ammon-Peachey Shauna EX-92-USA GMD DOM
The family of SUPERSIRE, SHAW, SARGEANT, PLATINUM, DIAMOND, HEADLINER and more!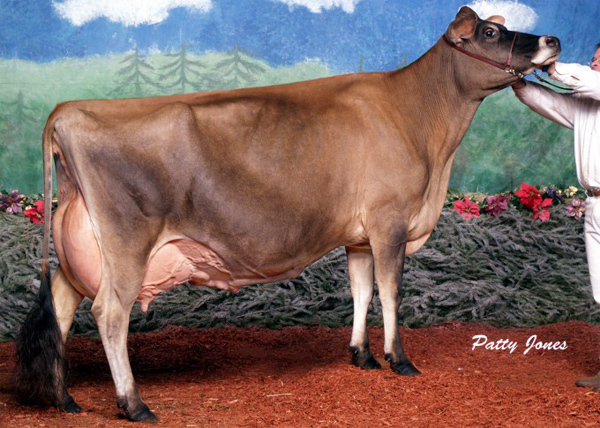 FEMALE Guimo JOEL x Noorder ARGH Barnabas (~CLICK HERE~)
Huge Guimo JOEL JERSEY embryos from the Minnies!
S Minnie her dam was Sr. Champion & Grand Champion Wisconsin State Fair '10
Same family as: Jif Little Minnie EX-96-CAN - All-Canadian & Grand Champion Royal '02 & '04!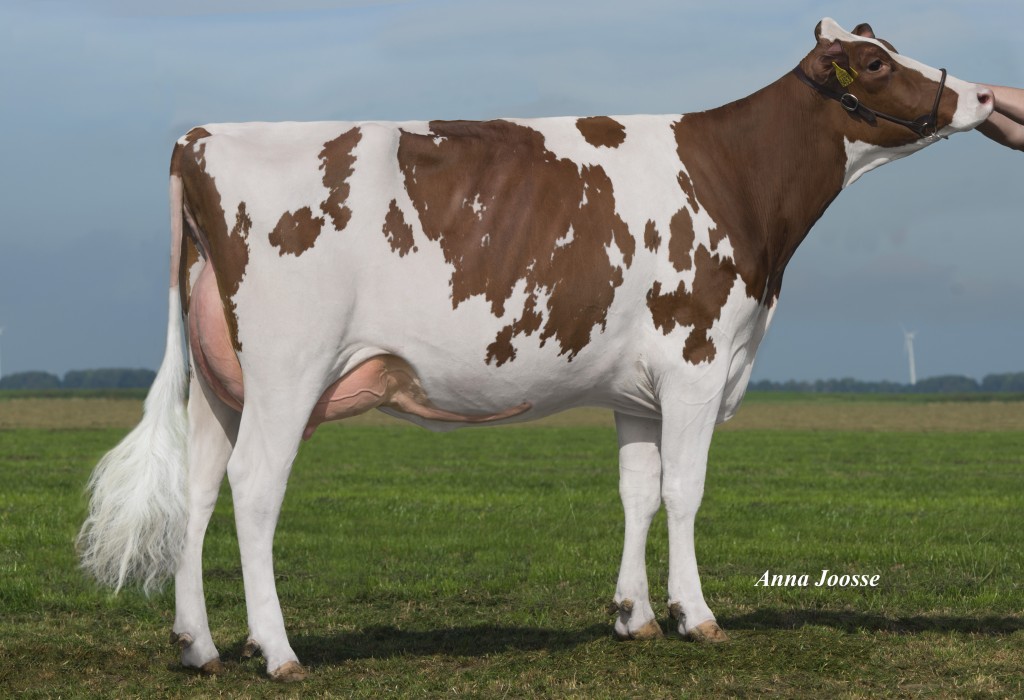 Farnear Aria ADDISON *RC x Lakeside Ups O'Lelie VG-86-NL VG-86-MS 2yr. (~CLICK HERE~)
Addison *RC embryos from the fantastic O'Kalif grand daughter of Zeedieker Advent Roseanna EX-93-NL
Addison *RC is the new type sensation for the R&W breed with +3.81 PTATand the brother to Altitude-Red (+3.79 PTAT)
He is an Crush son of Farnear-TBR Aria Adler EX-94-USA
Roseanna participated at the European Show Fribourg '13 & Colmar '16 was GRAND Champion R&W NRM '14, GRAND Champion R&W HHH-Show '16 & 3rd in class HHH-Show '17!!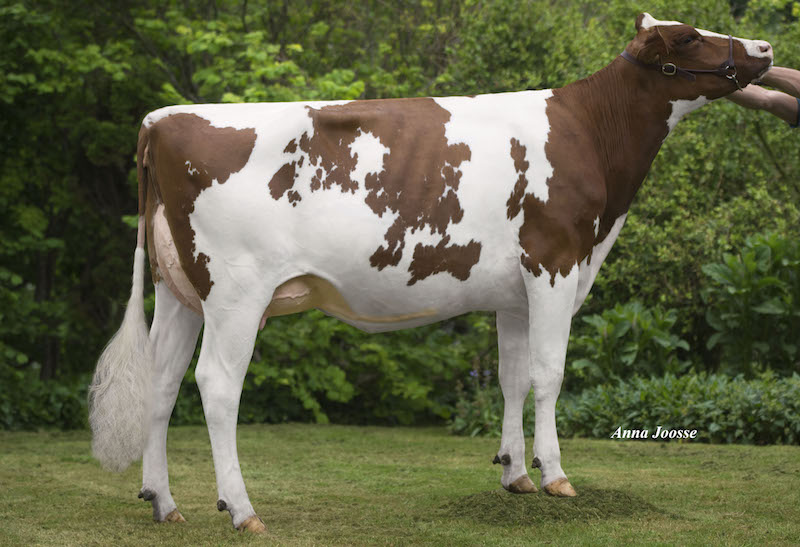 Col DG SPARK-RED x R DG Avira-Red VG-85-NL 2yr. (~CLICK HERE~)
Early Col DG SPARK-RED embryos (+161 RZG) from the former #5 GTPI R&W in Europe!
Avira her grand dam none other than KHW-I Aika Baxter VG-89-CAN 5yr. --> the dam to Aikman *RC!
Avira has an average of 3.8% PROTEIN and is the sister to the popular R&W bulls: Aviator Red, Alphaman and Adam
Same family as Jotan, Acme, Advent, Fraiko, Perfect Aiko, Absolute & more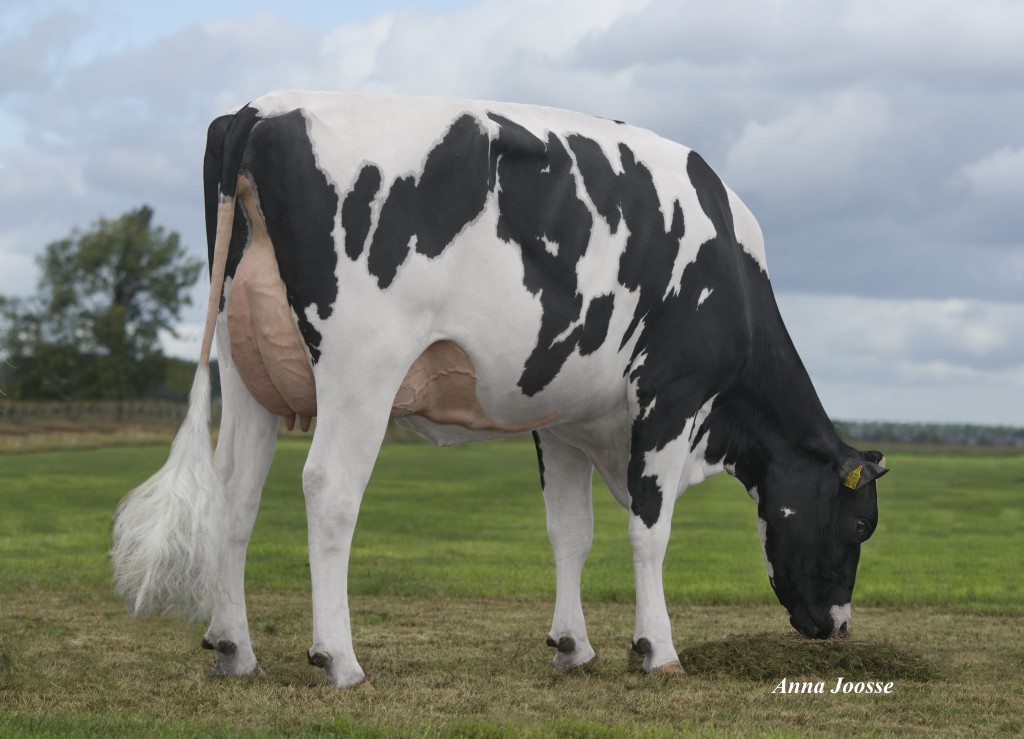 FEMALE S-S-I Montross JEDI x De Volmer DG Caylee VG-86-NL VG-88-MS 2yr. (~CLICK HERE~)
FEMALE S-S-I Montross JEDI embryos from the full sister of DG CHARLEY - DG Caylee!!
DG Caylee is fresh recently pictured and when you look at her picture she speaks for herself!!
S-S-I Montross JEDI is dtr proven since the August '18 run and impresses with 447 Milking dtrs and still +2729 gTPI!
Same cow family as Charley, Chevrolet, Fanatic, Commander and more!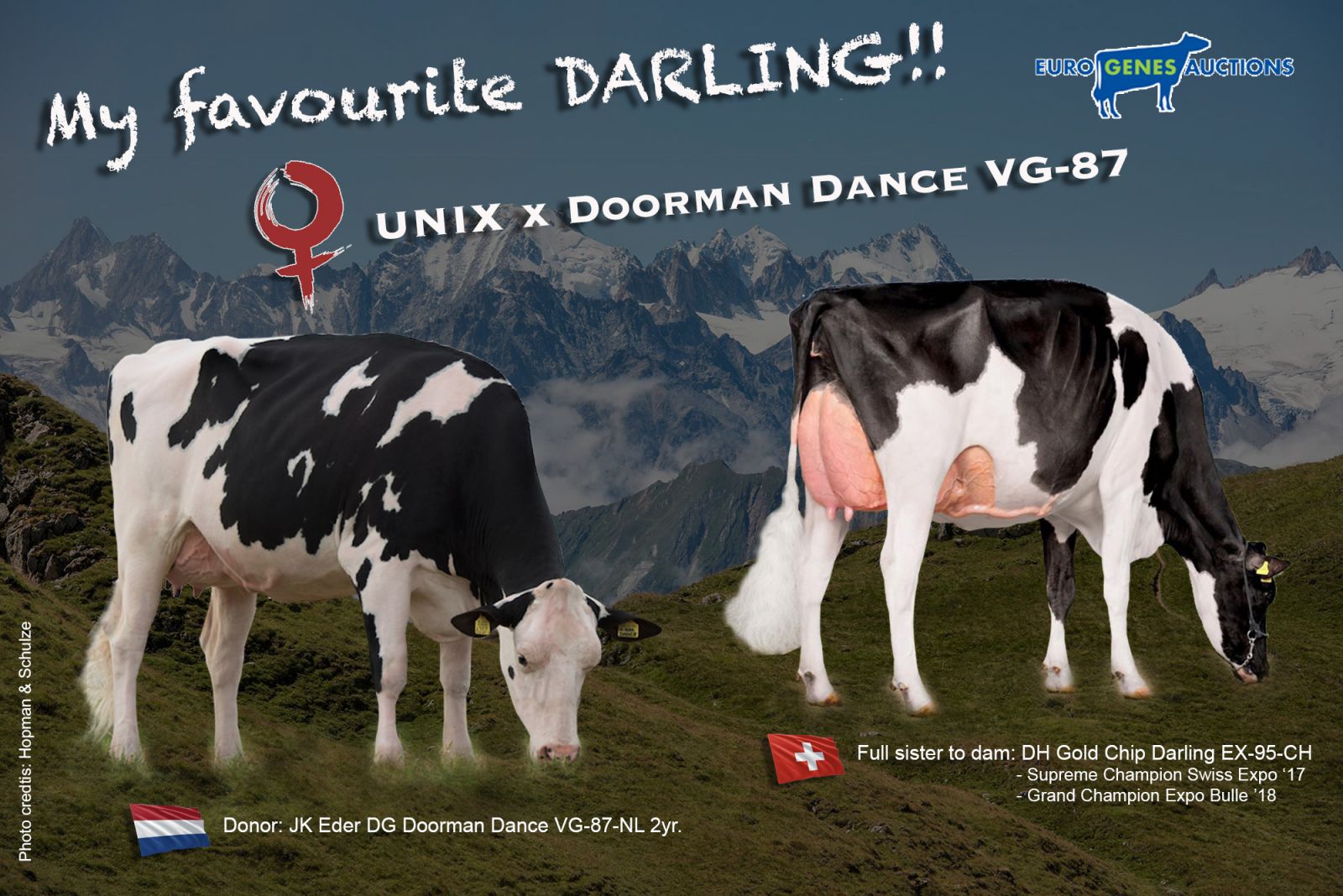 FEMALE Croteau Lesperron UNIX x JK Eder DG Doorman Dance VG-87-NL 2yr. (~CLICK HERE~)
FEMALE Unix x JK Eder DG Doorman Dance VG-87-NL 2yr. x the full sister to DH GOLD CHIP DARLING EX-94-CH
Her FULL sister was Res. 2yr. Old Champion at the HOORNAAR SHOW '18
Darling was SUPREME Champion Swiss Expo '17 & GRAND CHAMPION Expo Bulle '18!
4th dam is the full sister of the legendary DURHAM!!
Incredible combination to make SHOW TYPE and from a great family!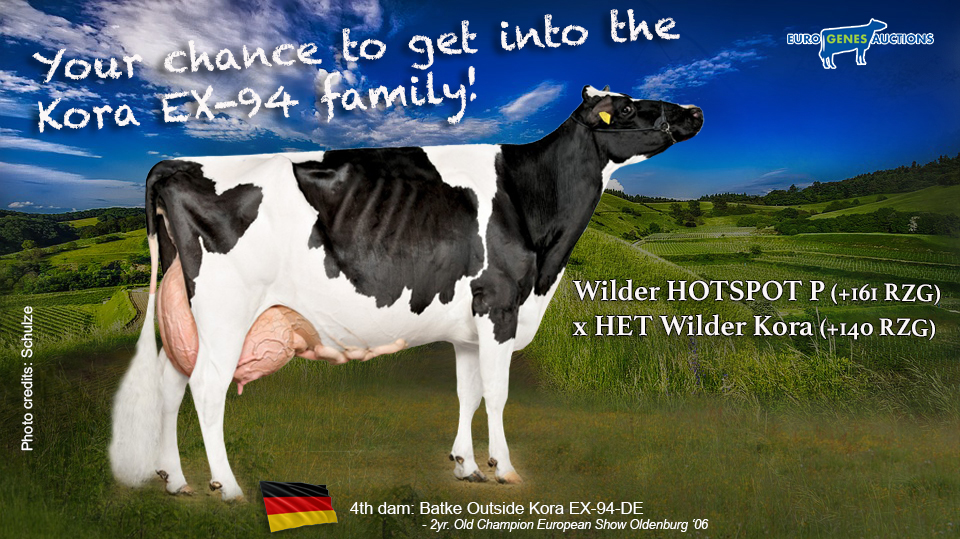 Wilder Hotspot P x HET Wilder Kora (~CLICK HERE~)
HOTSPOT P embryos from the Batke Outside Kora EX-94-DE family!
Heifer that combines >2400 GTPI and +140 RZG
Dam is full sister to Wilder Hira, the former #1 Saloon in the breed!
Batke Outside Kora EX-94-DE was 2yr. Old Champion @ European Show Oldenburg '06
Hotspot is high in several indexes +163 RZG / +340 NVI

For the complete catalog ---> click here