FINAL Day - Online Embryo Sale
The Online Embryo Sale has almost come to her end. Today at 9:00 P.M. (Dutch-Time) the sale will close. 23 embryo packages are selling in all price ranges. There is something for everybody with Jersey, Wagyu, R&W, SHOW & GTPI embryos! One of the finest consingments is Lot 1. embryos from Al-Lew Monterey Ashley VG-88-USA La1., the mother of the GTPI +2920 / PTAT +2.90 Aristocrat (Sold for $ 620.000)! Also embryos with PA DGV-Conformation +20, early FREE BILLY embryos (>200 lbs Fat + Protein / 1061 $ NM), embryos from the #1 RC GTPI cow in the USA, embryos from the mother of DG CHARLEY @ ABS and HERDBUILDER embryo packages starting at only EUR 150 / embryo are selling! Don't miss out this special auction.





A few examples of the embryos selling: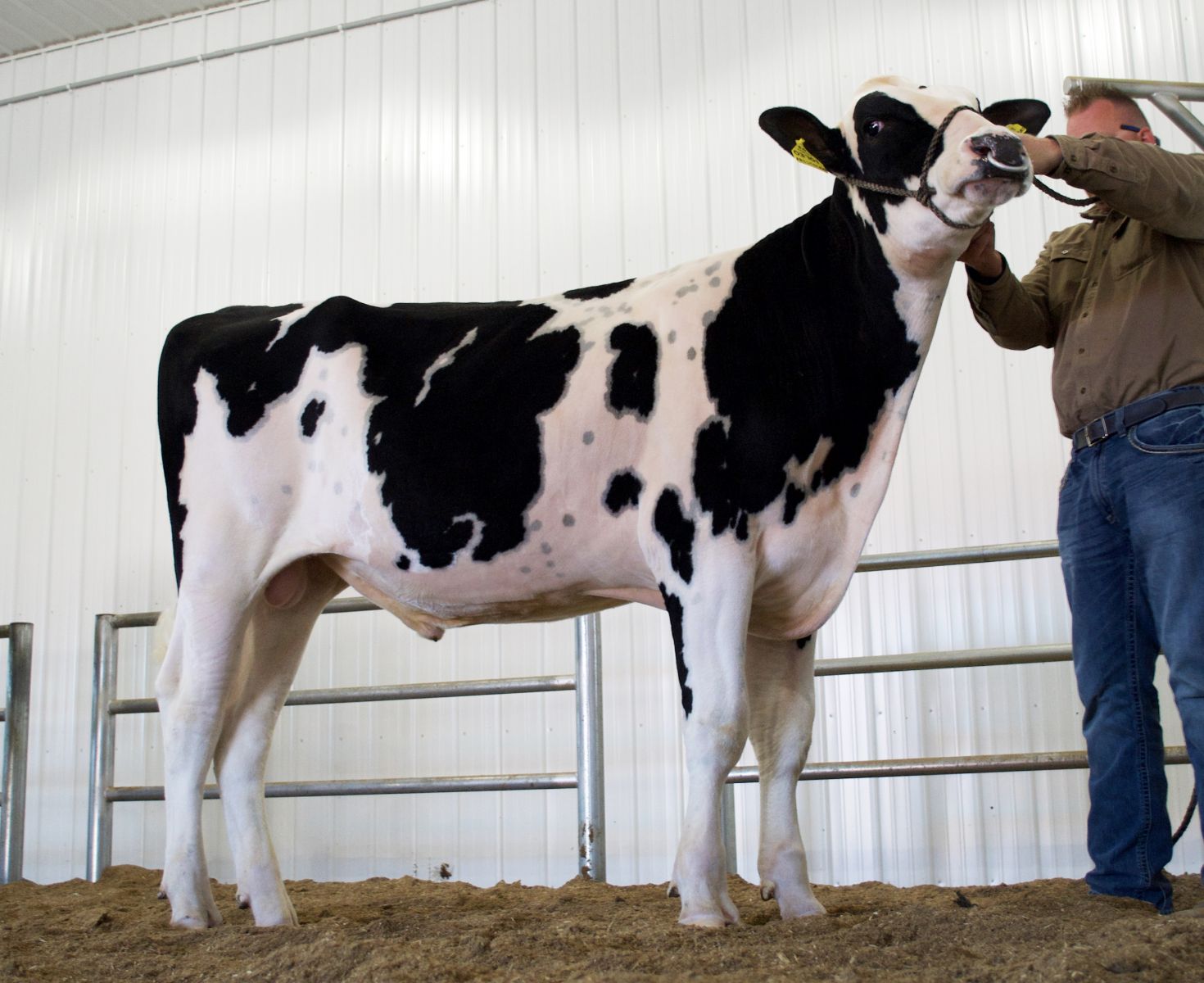 FEMALE T-Spruce Frazzled HUEY x Al-Lew Monterey Ashley VG-88-USA La1 (CLICK HERE)
UNIQUE opportunity to make a sister to Mr. Frazzled ARISTOCRAT (+2920 PTAT & +2.90 PTAT)
FEMALE embryos sired by T-Spruce Frazzled HUEY: +2888 gTPI & +1002 Net Merit!!!
Ashley is the only cow in the breed combining: >2645 gTPI & +3.75 PTAT!!
Ashley is also dam to NH DG Amazing (GTPI +2642 / PTAT +4.11), to AFLLECK (Top 10 bull Italy), to Armagadon *RC *P (GTPI +2606 / PTAT +3.77), to 2 Top 10 Charley dtrs for GTPI in Europe and more!
Ashley her son NH DG ALL-IN is the only bull in the breed combining >2690 GTPI & >3.95 PTAT!!
She scored VG-88-USA in her first lactation with EXCELLENT Feed and Legs and EXCELLENT rump!
From the incredible Durham Annabell cow family with 8 generations EXCELLENT dams!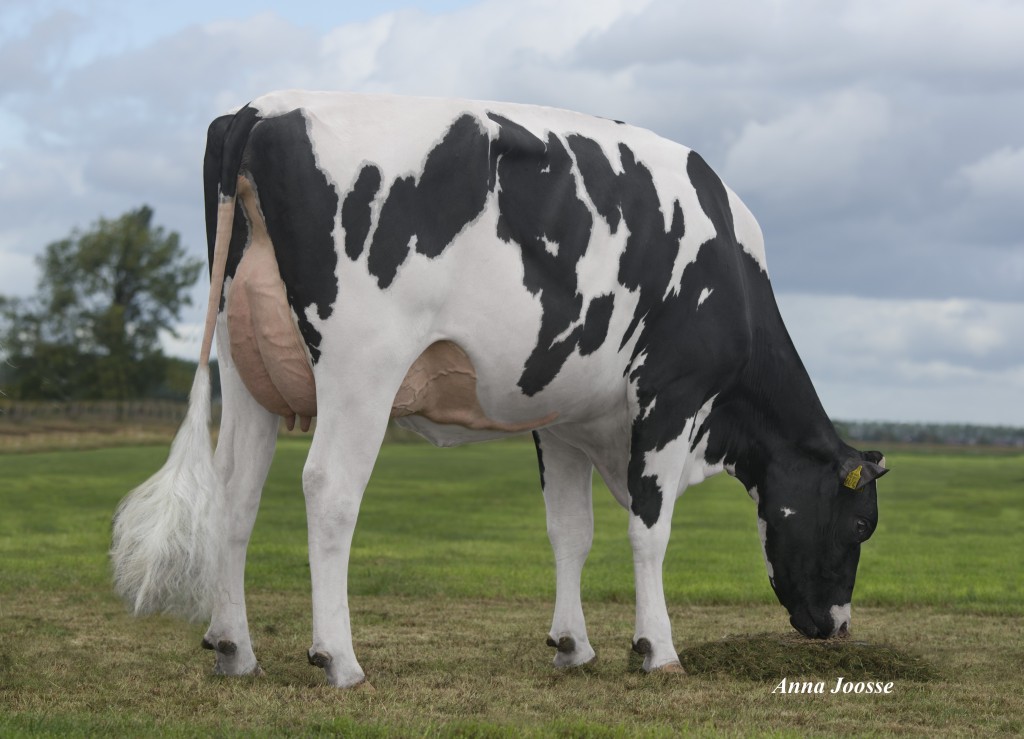 FEMALE S-S-I Montross JEDI x De Volmer DG Caylee VG-86-NL VG-88-MS La1 (CLICK HERE)
FEMALE JEDI embryos from the incredible full sister to DG CHARLEY!
JEDI is the #7 dtr proven GTPI sire based on 447 milking dtrs: GTPI +2729 (Prod. +2509M / +88 PROTEIN)
DG CAYLEE is one of the many great dtrs of SUPERSHOT - VG-88 udders - proj. >10.000 kg milk in 1st la!
Incredible line: Make FEMALES from the very best of the Larcrest Crimson's!!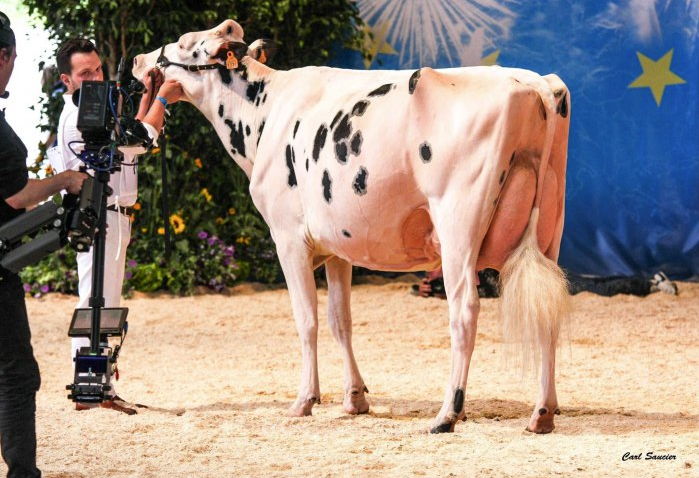 FEMALE Col DG CRUSHTIME x JK DG Carmen 2 (CLICK HERE)
FEMALE CRUSHTIME (PTAT +4.01) from the #2 PTAT heifer in Europe: Carmen (PTAT +4.06)
Carmen is an AMAZING heifer! SHOW type all over!
Make the NEXT chart topping type heifers from this incredible heifer:
PA PTAT +4.04 PA DGV Conformation: +20!!! +18 UDDERS!!!
Same family as Amarante EX-90-FR: 2 x FRENCH cow of the year!
Same family as Capj Irana, 1st place @ European Show Colmar '16 & National Champion - picture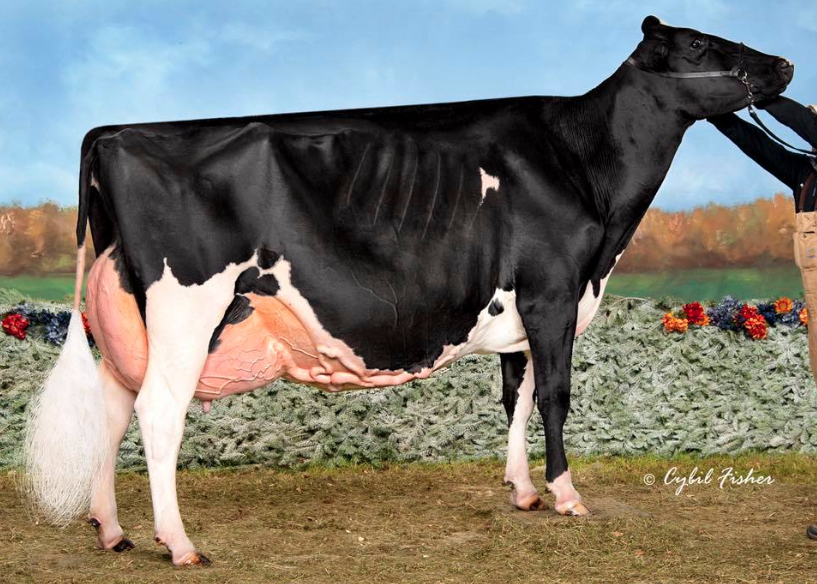 FEMALE Oh-River-Syc CRUSHABULL x Lovhill HET Beemer Kate (CLICK HERE)
Exclusive FEMALE CRUSHABUL (PTAT +4.19) embryos from incredible member of the KATRYSHA'S!
CRUSHABULL is one of the highest sons of CRUSH - super transmitting and not availble in Europe
Donor is a high PTAT member of the KATRYSHA family - huge PA potential for the type market
Grand dam is an EX-93 SID sister to the SUPREME CHAMPION WDE '15: Lovhill Goldwyn Katrysha EX-96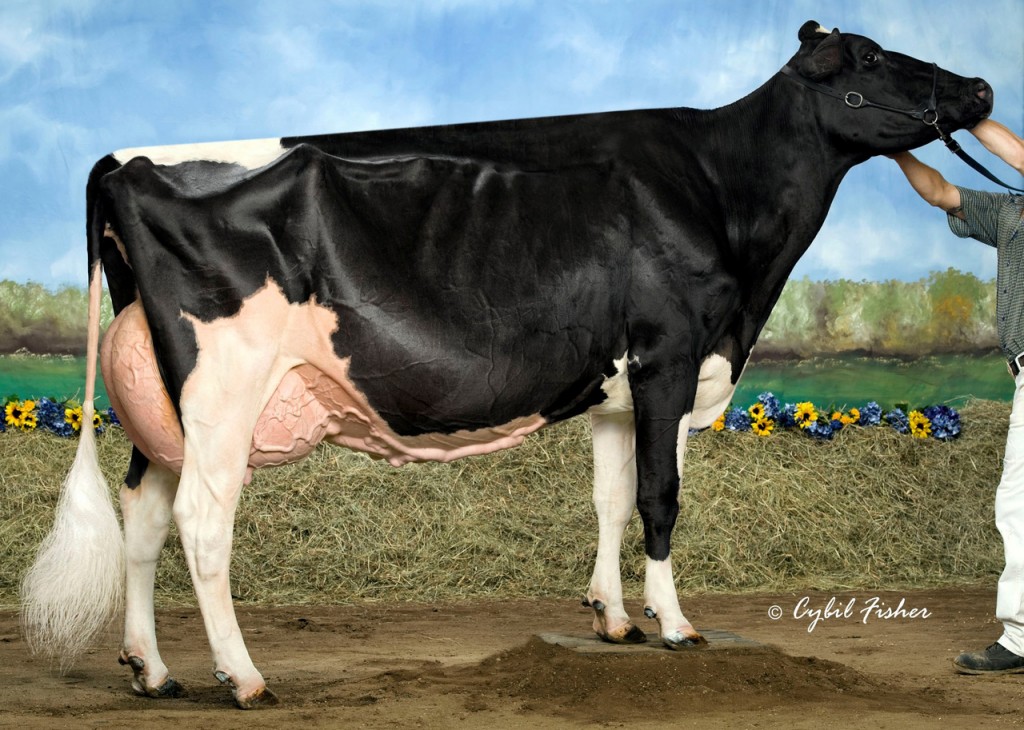 Mr. Ri-Val-Re FREE BILLY x MS DG-TM Flagship Buoy (CLICK HERE)
The first embryos to sell from FREE BILLY (Achiever x Rubicon x Oak) >> NM $ 1061
Huge PRODUCTION sire: +0.26% FAT / +0.10% PROTEIN / >200 lbs F + P!!! Feed Efficiency +291!!
Buoy is one of the highest Flagship's in the breed: +0.16%F +0.09% PROTEIN / SCE 5.5 / PL +7.2 / SCS 2.64
Great indexline going back on Rainyridge Talent Barbara EX-95 (All-American & All-Canadian) - picture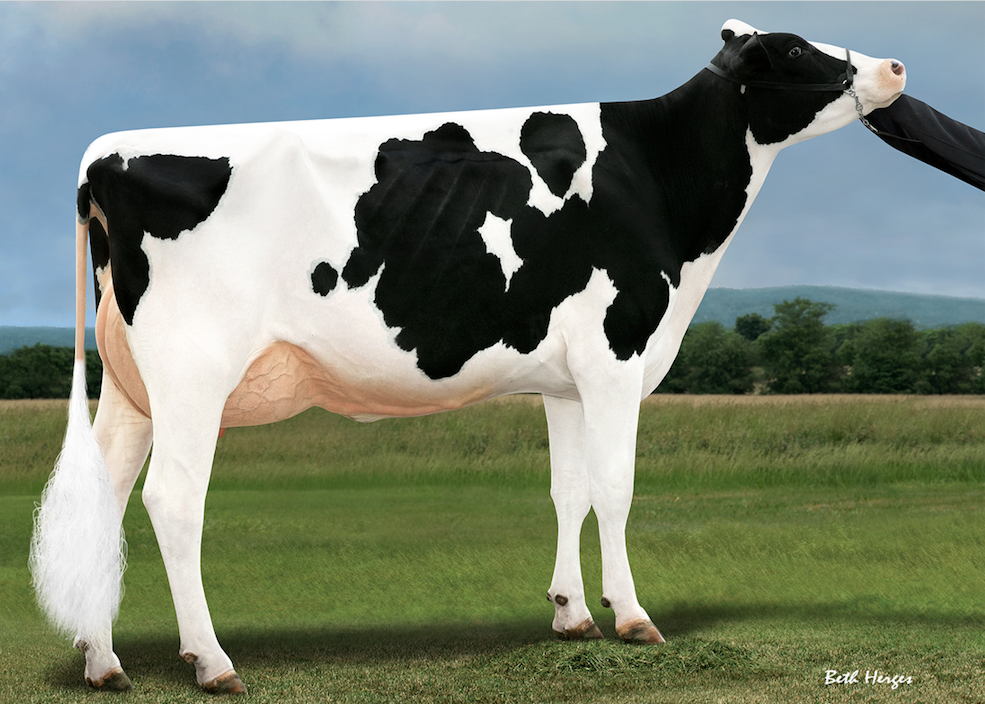 Denovo BUNGALOW x Ms DG Delta Bridgett *RC VG-86-USA La1 (CLICK HERE)
The FIRST Bungalow embryos to sell: GTPI +2917!!!
BUNGALOW: +1502M +0.11%F +0.09%P +71P / +4.1 DPR / +2.08 PTAT / +2.23 UDC!!!
Embryos from the #1 GTPI RED CARRIER cow in the USA: Bridgett RC!
Make the next RED CARRIER charttopper!
Daughter of the outstanding Mr. Mogul DELTA - not available in Europe!
Bridgett *RC her Pinnacle dtr is the #6 GTPI RC heifer in the USA
Bridgett *RC is full sister to Blake (5 progeny > 2800 GTPI) and sold for > $ 100.000
Going back on the All-American cow: Rainyridge Talent Barbara EX-95-USA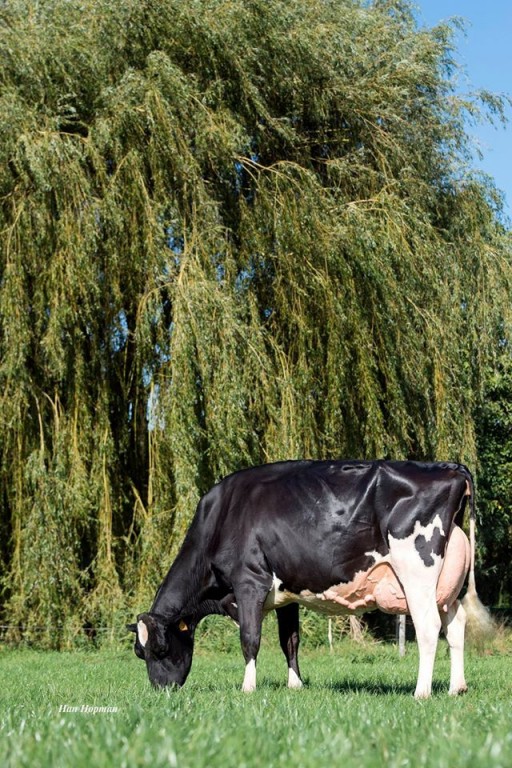 FEMALE Col DG CRUSHTIME x Carf Emeraude EX-91-NL (CLICK HERE)
FEMALE Col DG CRUSHTIME (PTAT +4.01 / DGV-Conf. +22) straight out of EMERAUDE!!!!
From the TYPE sensation Col DG CRUSHTIME:
+604M / SCS 2.88 / SCE 7.1 / Rump Angle -0.06 / UDC +3.53 / PTAT +4.01
DGV: MS +20 / F&L +13 / DS +16 / R +4 / CONFORMATION +22!!!

Emeraude EX-91 is one of the greatest show- & type transmitting cows of her generation!!!
Emeraude EX-91 and her progeny have won multiple National Show titles
Same family as Amarante EX-90-FR: 2 x FRENCH cow of the year!
Same family as Capj Irana, 1st place @ European Show Colmar '16 & National Champion